What is HF welding?
High Frequency (HF) or Radio Frequency (RF) welding is the joining of materials by supplying HF energy in the form of an electromagnetic field (27.12 MHz) and pressure to the material surfaces to be joined.
So, what is HF welding? A generator produces the energy. The tool used to supply the energy is called an electrode. The electrical energy causes the molecules within the material to start moving, which generates heat that causes the material to soften and thereby fuse together. No outside heat is applied. The heat is instead generated within the material. After cooling the welded surface under maintained pressure, the material is fused and a weld has been created. The weld seam can be at least as strong as the surrounding material – or even stronger.
Four important factors
Four important factors that affect the final weld result are pressure, welding effect, welding time and cooling time. These parameters can be adjusted and combined in different ways to achieve the optimal welding result for a specific material.
Materials
The material most commonly used with HF-welding is PVC (polyvinyl chloride), also called vinyl and PU (Polyurethane). The material can be thick or thin, reinforced or coated. It can also be plain, coloured or patterned. A few of these material suppliers are Mehler Texnologies, Sioen Industries, Serge Ferrari, Verseidag, Saint Clair Textiles, Dickson Constant and Rivertex.
Who uses HF-welding?
Forsstrom's customers manufacture a great variety of end products in these materials, such as truck and boat covers, tarps, tents, structures, pool liners, sunshades, billboards, inflatable products, liquid tanks, movie screens, waterbeds, stretch ceilings, valve membranes and oil booms.
What is so fantastic about HF-welding?
High frequency welding is one of the most commonly used technologies for bonding PVC and PU materials. The result of the weld is outstanding and long-lasting.
Why HF?
There are other technologies than high frequency (also called radio frequency) welding which can be used to join sheets of PVC and PU materials. So, why use high frequency (HF) rather than other technologies?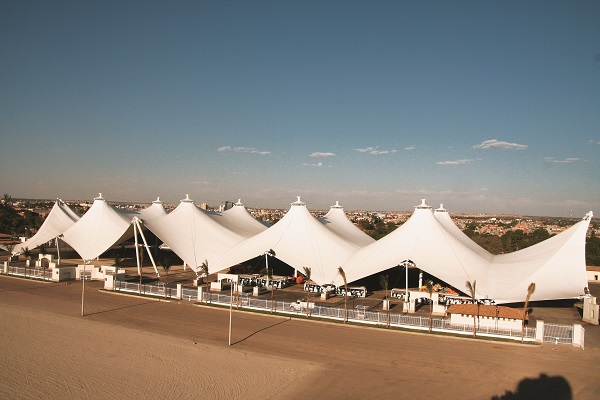 End products
A Forsstrom machine creates fantastic opportunities to manufacture exciting end products!